Haier Biomedical wins The Supplier Excellence Award.
The Lab Awards, part of Lab Innovations, the UK's leading lab industry event, acknowledges and celebrates achievements within the sector. This year Haier Biomedical received The Supplier Excellence Award, which identifies excellence in customer support, expertise, advice and supply chain challenges.
The award recognises the work carried out by Haier Biomedical on a project to help with the fit-out of an entirely new lab to very challenging deadlines for our client, Engitix. During the project, we pulled out all the stops to help them while maintaining our service to our other clients, and they were delighted!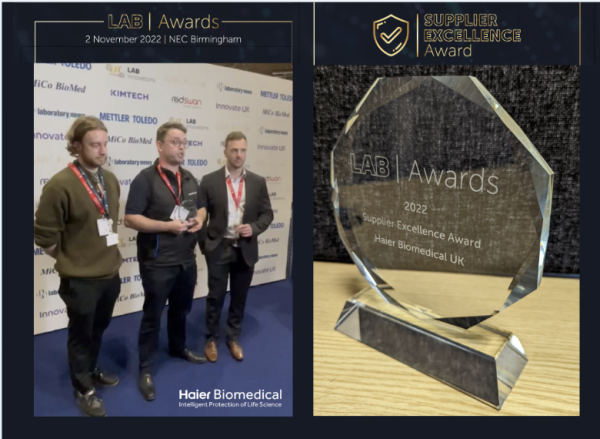 Engitix, a fast-growing pharma company, was planning a significant expansion and a new state-of-the-art laboratory facility in London. With limited resources, the company had two key project objectives:
To complete the laboratory equipment fit-out to a strict deadline, ready to commence operations less than one month after the lab building works completed.
To reduce the workload associated with delivering a project of this scale such that their team could focus on business operations.
Thanks to a favourable stockholding policy, we had equipment available to meet the client's needs. Still, the window to install the equipment between when the laboratory premises would become available, and the deadline for the commencement of operations, was extremely tight. With careful scheduling, we could deliver, install and commission the capital equipment within this window. We also brought on board a partner to provide all the other equipment needed for the laboratory. As a result, the project completed on time with minimal involvement from the customer.
The lab started in September, and the grand opening was in October. Our delivery and installation of the capital equipment were all complete, with all necessary items receiving positive commissioning reports well in time for this. For the first time, we brought in a delivery partner to provide all the equipment we don't sell, and all the benchtop equipment was installed to the client's satisfaction. We managed to keep the liaison with the client down to a few critical meetings, so they now have a great, working lab with the absolute minimum of effort.
Keigan Docherty, the project manager for Haier Biomedical and Harry Pomfret, local account manager were joined by Mitchell Frizelle, Laboratory Manager Engitix , to receive the award on behalf of the project team.
"We appreciate the amount of time, effort and commitment that Haier and their partners put into successfully fulfilling this project and to meet our deadline. At all points along the journey their team worked collectively with us and other stakeholders to make this happen. Haier representatives provided support from the early stages to the final end-point, providing on-ground support at our facility at major delivery milestones. I'm pleased their endeavours have been acknowledged in this way" explained Mitchell.
original Source:https://www.haiermedical.com/news/Haier-Biomedical-wins-The-Supplier-Excellence-Award.html
Media Contact
Company Name: Haier Biomedical
Email: Send Email
Phone: +86-532-88935593
Country: China
Website: https://www.haiermedical.com/