Swift Delivery and Logistics Expand Its Pharmaceutical Courier Services Across Washington D.C.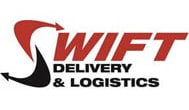 Full-service pharmacy courier, Swift Delivery and Logistics, continues to offer reliable, on-time delivery throughout Washington D.C.
Larry Hill and his team at Swift Delivery and Logistics continue to set the pace in the logistics industry, especially in the aspect of pharmacy courier service, using top-notch delivery methods to help healthcare providers transport their medical supplies securely. In a related development, the company has continued to expand its offerings to serve medical facilities in different parts of Washington DC as well as across Maryland and Virginia.
Businesses across the globe often struggle with getting their supplies to customers. The situation can be even more worrisome for healthcare providers and other such businesses in the medical field. However, medical facilities and other similar service providers in and around Washington have one less thing to worry about in terms of delivery of supplies thanks to Swift Delivery and Logistics.
Swift Delivery and Logistics have grown to become the choice provider of pharmaceutical courier services, boasting of the requisite expertise and use of the latest transportation and logistics solutions to take medical packages and deliver them to the right destination in good time. Over the years, Swift Delivery and Logistics has worked with different categories of healthcare providers and medical facilities, including pharmacies, clinics, home health agencies, nursing homes, hospitals, medical warehouses, and labs.
The company's pharmacy courier service is tailored to meet the specific needs of each client, ranging from transporting medication to samples, blood products, medical specimens, life-saving organs, medical equipment and devices, patient records, and test reports. Swift Delivery and Logistics continues to expand its 24/7 medical courier services across Washington D.C., Maryland and Virginia, helping patients to get quality treatments as fast as possible without requiring clients to break the bank.
For further information about Swift Delivery and Logistics and the range of same-day delivery courier services offered, visit – https://swiftdeliveryandlogistics.com/.
Media Contact
Company Name: Swift Delivery & Logistics
Contact Person: Larry Hill
Email: Send Email
Phone: (301) 459-5808
Address:4451 Parliament Pl l
City: Lanham
State: MD 20706
Country: United States
Website: https://swiftdeliveryandlogistics.com/medical-courier/