Tampa General Hospital Is Looking At A World Record After Birthing Baby Ezekiel During 21-22 weeks of Pregnancy.
African-American woman, Monica, gave birth to her son Ezekiel after 4.5 months of becoming pregnant.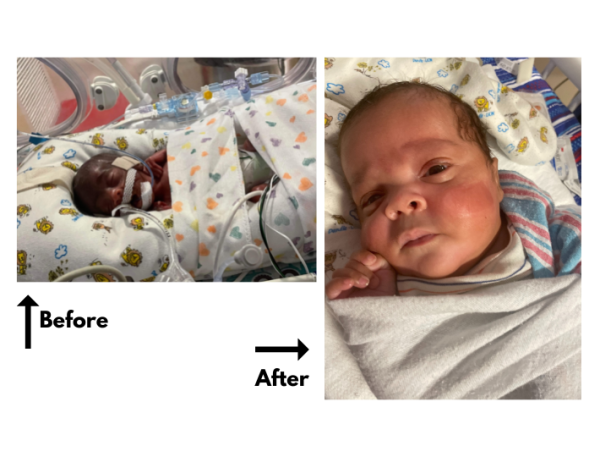 Florida's Tampa General Hospital might have set a world record. They successfully saw the birth of the youngest viable fetus to survive and have been caring for the fetus since then. Baby Ezekiel was born at 21 to 22 weeks of pregnancy. Ezekiel means God will strengthen, according to the mother, Monica Franciosa. African-American woman, Monica, is 43 years old.
The life of Ez, the nickname for Ezekiel, has not been easy. There have been many hurdles and odds even before Monica conceived him.
Ezekiel was implanted on 10/12/2021 as an IVF baby. It was a true miracle only one out of 7 embryos frozen survived.
The mother was admitted to the hospital and experienced labor at four months on 14th February 2022 at Tampa General Hospital. Monica was determined to save the child even if she put her life in danger. She did a miracle by delivering the baby on 3/1/22. Monica and Ezekiel will be discharged during the original due date Ezekiel on 7/5/2022.
Most hospitals do not consider a fetus viable until it is 24 weeks. Ezekiel is an exception. He was born without mature lungs and weighed 1 pound and 8 oz. However, with the help of faith and advancements in science, the child now weighs 8-9 pounds and has a well-functioning lung.
Monica appreciates the help of the primary care nurses and medical providers. "It was very scary as I had to spend 120 days in the NICU. It was heartening to see the way the doctors and nurses helped me during that critical time," said Monica.
She further added "I am thankful for God's blessing and appreciate her son's Dedicated medical team, the ones committed to bridging the gap impacting racial and social disparity fears in maternal care. TGH was a model of change we want to see in the world . I believe this is the beginning of my new life mission as a human rights consultant & future author. There's a lot of work ahead and support needed along such a life traumatic NICU experience."
Black women in the USA are more likely to die from pregnancy issues than white women. This happens due to the way they are treated based on who they are, creating disparities in healthcare outcomes. Hospital dedicated team members were dedicated in bridging the gaps of disparity and caring for Monica and Ezekiel.
To learn more about Dr. Monica Watts Franciosa visit: https://linktr.ee/DrmonicaPRO
Media Contact
Company Name: Behavioral Wellness and Birth Arts
Contact Person: Sal Franciosa
Email: Send Email
Country: United States
Website: linktr.ee/DrmonicaPRO