Hearing Aids Market To Represent A CAGR Of 4.9% By 2030 In Order To Rising Awareness Regarding Technologically Advanced Devices For Treatment of Hearing Impairment | Grand View Research, Inc.
According to new report available with Grand View Research, the global hearing aids industry is expected to grow owing to the increasing prevalence of hearing loss due to the growing geriatric population.
Hearing Aids Industry Overview
The global hearing aids market size was valued at USD 10.1 billion in 2021 and is expected to reach USD 15.5 billion by 2030, registering a CAGR 4.9% over the forecast period.
The market growth can be attributed to key factors such as the increasing adoption of hearing aids devices, growing awareness regarding technologically advanced devices for the treatment of deafness and hearing impairment, and the increasing prevalence of hearing loss due to the growing geriatric population. The market is a highly technological driven market that has seen the emergence of novel products including smart linked hearing aids, invisible hearing aids, and AI- and Bluetooth-enabled hearing aids that can be connected to Android or iOS.
Gather more insights about the market drivers, restrains and growth of the Global Hearing Aids Market
For example, in August 2021, Phonak introduced the world's first waterproof rechargeable, Audéo Life hearing aid. Hence, hearing aid companies are improving patients' experiences with new features and technology, which is expected to fuel market growth in the coming years. Moreover, in the U.S., approximately 15% of patients aged between 18 and over suffer from hearing loss. For instance, the FDA announced a proposal in October 2021 that it wants to establish a new category of low-cost over-the-counter hearing aids. This opens up a new revenue stream for businesses looking to acquire a foothold in the OTC hearing aid market. Such substantial government and regulatory support are projected to have a long-term positive impact on the hearing aids sector in the U.S.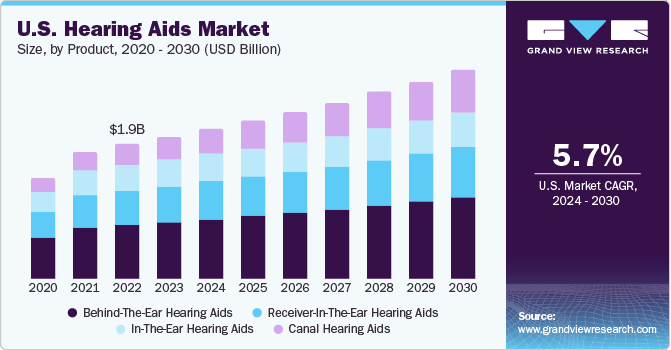 Moreover, hearing service offices and general healthcare service associations of local governments in both developed and developing economies are emphasizing early screening of deafness and the provision of hearing aids to people. As the healthcare sector in emerging economies is moving towards privatization, healthcare infrastructure in these countries is undergoing rapid development. Education and increased awareness regarding health among people are also playing an important role in increasing the demand for these devices and their diagnostic services.
The COVID-19 outbreak has had a significant impact on the healthcare industry. Among COVID-19 positive patients, most hospitals are running out of beds. In addition, a number of elective procedures are being canceled or postponed in order to reallocate resources. According to the Hearing Industries Association (HIA), hearing aid sales in the U.S. has declined by 29.7% in the first half of 2020. Due to the postponement of procedures like the cochlear implantation technique, which is one of the most significant treatments to address hearing impairments, the pandemic had a detrimental influence on the total sales of hearing aid support goods. As a result, sales of hearing aids from major manufacturers have decreased. Despite all of these obstacles, the hearing aids business and other medical industries are progressively regaining ground as the COVID-19 situation throughout the world normalizes.
Furthermore, countries all over the world are now focused on reducing deafness and this, in turn, has led to the introduction of various initiatives that aim to promote awareness and provide free care to patients. Subsidies, grants, and funding are offered by governments all across the world to prevent and manage hearing disorders. For instance, the New South Wales (NSW) Statewide Infant Screening-Hearing (SWISH) program in Australia aims at identifying babies born with permanent bilateral deafness in NSW. Such initiatives are expected to further boost the demand for these devices globally.
Furthermore, in February 2022, Paradise technology from Phonak is included in the Virto range of customized hearing aids. The Virto P Black is an integrated in-the-ear hearing device that looks similar to a modern earbud and the ultra-discreet Virto P-Titanium customized titanium hearing aid is also included in this package. Virto Paradise hearing aids, which are enabled by the PRISM sound processing processor, provide unrivaled sound quality and are specifically designed for each person's ears, providing a fully unique hearing experience.
Hearing Aids Market Segmentation
Based on the Product Type Insights, the market is segmented into In-the-Ear Hearing Aids, Receiver-in-the-Ear Hearing Aids, Behind-the-Ear Hearing Aids and Canal Hearing Aids.
The behind-the-ear (BTE) hearing aids segment accounted for the largest revenue share of over 40.0% in 2021. BTE hearing aids consist of a small curved case that comfortably fits behind the ear.
The canal hearing aids segment is anticipated to emerge as the fastest-growing segment in terms of revenue over the forecast period. Canal devices are discreet devices, which is one of the critical success factors for their rapid growth.
Based on the Technology Insights, the market is segmented into Digital and Analog.
Digital devices dominated the market with a revenue share of over 90.0% in 2021 and are anticipated to expand at the fastest CAGR over the forecast period.
The analog devices are on the verge of getting obsolete with a slower growth rate as compared to their digital counterparts. Despite this, manufacturers continue to produce analog hearing aids owing to the low cost and reluctance of a handful of users to switch to digital ones.
Based on the Sales Insights, the market is segmented into Retail Sales, Government Purchases and E-commerce.
The retail sales segment dominated the market with a revenue share of over 70.0% in 2021 and is also expected to grow at the fastest rate over the forecast period. The implementation of OTC hearing aids acts as one of the pivotal factors for a large share of retail sales.
E-commerce and government purchases of these devices are expected to grow at a lucrative rate over the forecast period. The growth of the retail sales segment can be attributed to a large number of retail stores, a rising number of manufacturing companies entering retail sales, and a high sales margin.
Based on the Regional Insights, the market is segmented into North America, Europe, Asia Pacific, Latin America, and Middle East & Africa.
Europe dominated the market in 2021 with a revenue share of over 35.0% and is expected to grow at a lucrative rate over the forecast period.
North America held the second-largest revenue share in 2021. An increase in the prevalence of auditory loss and a rise in awareness regarding technological advancements are the major factors driving the demand for these devices in Europe.
Browse through Grand View Research's Medical Devices Industry Research Reports.
Wearable Medical Technology Market – The global wearable medical technology market is expected to grow at an estimated CAGR of 17% over the forecast period. Wearable medical devices are attached to the human body which acts as biosensors to monitor and detect crucial changes in certain areas of the body and seize physiological data.
Brain Monitoring Device Market – Growing prevalence of target conditions such as neurological disorders, autoimmune and cardiovascular diseases across the world is the primary growth driver of the global brain monitoring devices market. Brain monitoring devices are used to monitor and diagnose abnormal activities in the brain.
Market Share Insights
March 2022: Sonova Holding AG completed the acquisition of Sennheiser electronic GmbH & Co. KG's Consumer Division. This will enhance Sonova's engaging product portfolio while also expanding its network footprint and client base.
February 2021: GN Store Nord A/S launched a new ReSound Key, a comprehensive hearing aid portfolio that provides more access to better hearing technologies throughout the world. This launch will enable the firm to expand its product offering and serve a larger consumer base.


Key Companies Profile:
The manufacturing outsourcing has emerged as a key trend among market participants to further gain or sustain their position in the market. Some prominent players in the global hearing aids market include,
Phonak
Benson Hearing
GN Store Nord A/S
Starkey
MED-EL
William Demant Holding A/S
Medtronic
Widex USA, Inc.
Sivantos Pte LTD
Order a free sample PDF of the Hearing Aids Market Intelligence Study, published by Grand View Research.

About Grand View Research
Grand View Research is a full-time market research and consulting company registered in San Francisco, California. The company fully offers market reports, both customized and syndicates, based on intense data analysis. It also offers consulting services to business communities and academic institutions and helps them understand the global and business scenario to a significant extent. The company operates across multitude of domains such as Chemicals, Materials, Food and Beverages, Consumer Goods, Healthcare, and Information Technology to offer consulting services.
Web: https://www.grandviewresearch.com
Media Contact
Company Name: Grand View Research, Inc.
Contact Person: Sherry James, Corporate Sales Specialist – U.S.A.
Email: Send Email
Phone: 1888202951
Address:Grand View Research, Inc. 201 Spear Street 1100 San Francisco, CA 94105, United States
City: San Francisco
State: California
Country: United States
Website: https://www.grandviewresearch.com/industry-analysis/hearing-aids-market