Victorage gaming chair or Razer gaming chair? Here is the answer.
Razer is famous for its gaming peripherals like gaming mouse and keyboards, they also launched their first gaming chair named Iskur to expand their product lines. Due to its special shoulder arch design, it's easy to associate it with Victorage Delta series gaming chair, as this series is also Victorage's hot seller. Here is the gaming chair comparison between Victorage and Razer, hope it will help those who want to choose from them two.
Several aspects have been listed as below, making the differences clear.
| | | |
| --- | --- | --- |
| Brand | Victorage Delta | Razer Iskur |
| Color | Black, White and Red | Black and Green |
| Leather | PU Leather | PVC Leather |
| Frame | The whole steel frame | Metal & Plywood |
| Foam | High Density Integrated Foaming | High Density Molded Foam |
| Adjustable angle | 155 Degrees | 139 Degrees |
| Mechanism | Frog Mechanism | Butterfly Mechanism |
| Gaslift Class | 4 | 4 |
| Base | 5-star Aluminum Alloy Base | 5-star Metal Powder Coated |
| Recommended Weight | <350lbs | <299lbs |
Victorage gaming chair is made of premium PU leather, this kind of leather is comfortable, odorless, eco-friendly, durable, and flame-resistant, having no harm to user's health. Razer uses PVC leather, generally speaking, PU leather will be more durable than PVC leather after long hours of daily use.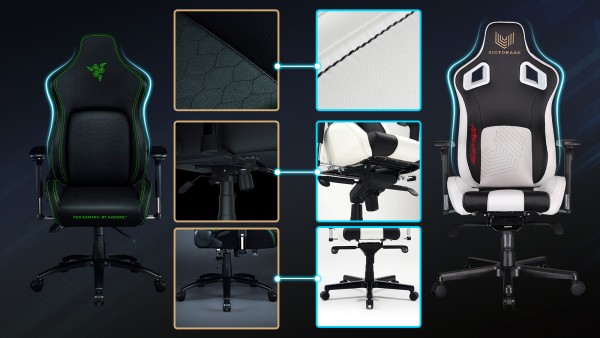 When it comes to the frame and foam, on the one hand, due to its more than 20 years experience of car seat manufacturing, Victorage follows its proven technology, making the whole steel frame wrapped in the high density integrated foaming sponge. On the other hand, according to Razer's introduction, their frame is made of metal and plywood, though the foam is also high density.
The adjustable angle of Victorage Delta series ranges from 90° to 155°, if it combined with 15° tilt function, it will be much cozier to lie down like sleeping in a soft cradle. Razer Iskur only can be adjusted to 139° and just has butterfly mechanism.
The headrest and lumbar pillows are shipped together with Victorage gaming chair, to help consumers find perfect postures. Razer Iskur is equipped with a lumbar support system, the back panel can be shifted forward and back using a piston. That would be a merit, but the panel moves from the bottom, so it would leave consumers sitting on the edge of their seat.
If compared with their prices, Victorage is more worthy buying, but for a Razer fans, maybe Iskur will be more suitable even though it cost $499.
Media Contact
Company Name: Victorage Inc.
Contact Person: Hetty
Email: Send Email
Phone: +8617348275869
Country: China
Website: www.victorage.com