Myopia Pipeline, Clinical Trials and Emerging therapies by DelveInsight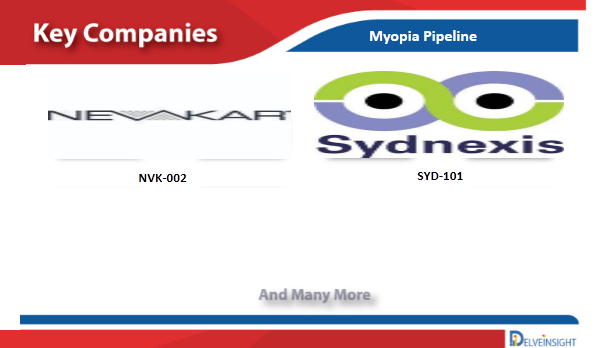 "Myopia Pipeline" report has been added to DelveInsight
Myopia Overview
Myopia (also known as Nearsightedness), occurs when the eye grows too long from front to back. The eye lens starts focusing the images in front of the retina instead of focusing on the retina. Therefore, people with myopia have well near vision but poor distance vision.
DelveInsight's, "Myopia – Pipeline Insight, 2021," report provides comprehensive insights about 6+ companies and 6+ pipeline drugs in Myopia pipeline landscape. It covers the pipeline drug profiles, including clinical and nonclinical stage products. It also covers the therapeutics assessment by product type, stage, route of administration, and molecule type. It further highlights the inactive pipeline products in this space.
Request free sample copy– https://www.delveinsight.com/sample-request/myopia-pipeline-insight
Myopia Pipeline: Region Covered
Myopia Pipeline: Key Players
Nevakar
Sydnexis
And many others
Myopia Pipeline: Drugs
NVK-002
SYD-101
And many others
Myopia Pipeline: Diagnosis
Undiagnosed cases may lead from headaches and strains to struggle for the clear visualization of the things in the distance.
Myopia Pipeline: Symptoms
The signs and symptoms for myopia include squinting, feeling fatigued when driving or playing sports along with headache and strain.
Myopia Pipeline: Report
An international team of vision scientists, some genes are involved in nerve cell function, metabolism, and eye development that have a small influence on myopia risk. The researchers have also found that individuals carrying greater numbers of the myopia-prone versions of the genes have up to tenfold increased risk of myopia.
Myopia Pipeline: Emerging Drugs Analysis
Many novel therapies are in the late stage of development, targeting a more effective approach for the treatment of Myopia. Upcoming therapies have the potential to start a new era in its treatment if and once approved.
Myopia Pipeline: Insights
Apart from these, Leo Lens Pharma announced in February 2020, that it received a notice of allowance from the USPTO for a patent for the use of its proprietary MediPrint process to manufacture a contact lens capable of providing enhanced myopia management. The novel product will allow patients suffering from, or at a high risk of developing, myopia to wear a contact lens that can automatically and continuously deliver a drug to control myopia, such as low dose Atropine, to the patient's eye.
Myopia Emerging Drugs
MicroPine: Eyenovia
Atropine ophthalmic solution, known as MicroPine in US, is developed by Eyenovia, Inc. for progressive myopia, a back-of-the-eye condition commonly known as nearsightedness. It is designed based on Eyenovia's Optejet microdose formulation and delivery platform using its patented high-precision piezo-print technology known as MAP (microdose array print) to deliver 6-8 μL of drug, consistent with the capacity of the tear film of the eye. Microdose administration of the drug is anticipated to result in low systemic and ocular drug exposure while improving comfort and ease-of-use in children. Atropine micro-formulation licensed to Arctic vision in China, Hong Kong, Macau, Taiwan and South Korea. Atropine micro-formulation licensed to Bausch Health in USA and Canada. The atropine micro formulation is being evaluated in Phase III clinical trials.
NVK002; Nevakar
Nevakar is developing NVK-002, a novel, investigational, preservative-free low-dose atropine eye drop which is administered nightly, as a single drop to both eyes. NVK-002 uses Nevakar's proprietary technology, designed for maximum stability and tolerability. Nevakar is currently testing two concentrations in the US and Europe in multiple clinical studies. The product is being studied for up to 4 years to evaluate if it is safe and effective.
Myopia Pipeline Development Activities
The report provides insights into:
All of the companies that are developing therapies for the treatment of Myopia with aggregate therapies developed by each company for the same.
Different therapeutic candidates segmented into early-stage, mid-stage and late stage of development for the Myopia treatment.
Myopia key players involved in targeted therapeutics development with respective active and inactive (dormant or discontinued) projects.
Drugs under development based on the stage of development, route of administration, target receptor, monotherapy or combination therapy, a different mechanism of action, and molecular type.
Detailed analysis of collaborations (company-company collaborations and company-academia collaborations), licensing agreement and financing details for future advancement of Myopia market.
The report is built using data and information traced from the researcher's proprietary databases, company/university websites, clinical trial registries, conferences, SEC filings, investor presentations, and featured press releases from company/university web sites and industry-specific third-party sources, etc
Request free sample copy– https://www.delveinsight.com/sample-request/myopia-pipeline-insight
Table of content
Report Introduction
Myopia
Myopia Current Treatment Patterns
Myopia – DelveInsight's Analytical Perspective
Therapeutic Assessment
Myopia Late Stage Products (Phase-III)
Myopia Mid Stage Products (Phase-II)
Early Stage Products (Phase-I)
Pre-clinical Products and Discovery Stage Products
Inactive Products
Dormant Products
Myopia Discontinued Products
Myopia Product Profiles
Myopia Key Companies
Myopia Key Products
Dormant and Discontinued Products
Myopia Unmet Needs
Myopia Future Perspectives
Myopia Analyst Review
Appendix
Report Methodology
Key questions answered in the report
How many companies are developing Myopia drugs?
How many Myopia drugs are developed by each company?
How many emerging drugs are in mid-stage, and late-stage of development for the treatment of Myopia?
What are the key collaborations (Industry–Industry, Industry–Academia), Mergers and acquisitions, licensing activities related to the Myopia therapeutics?
What are the recent trends, drug types and novel technologies developed to overcome the limitation of existing therapies?
What are the clinical studies going on for Myopia and their status?
What are the key designations that have been granted to the emerging drugs?
About Us
DelveInsight is a Business Consulting and Market research company, providing expert business solutions for life science vertical and offering quintessential advisory services in the areas of R&D, Strategy Formulation, Operations, Competitive Intelligence, Competitive Landscaping, and Mergers & Acquisitions.
Media Contact
Company Name: DelveInsight Business Research LLP
Contact Person: Yash Bhardwaj
Email: Send Email
Phone: +919650213330
Address:304 S. Jones Blvd #2432
City: Las Vegas
State: NV
Country: United States
Website: https://www.delveinsight.com/