Mattress Market in U.S. is Expected to Grow at the Fastest Pace Between 2020 to 2030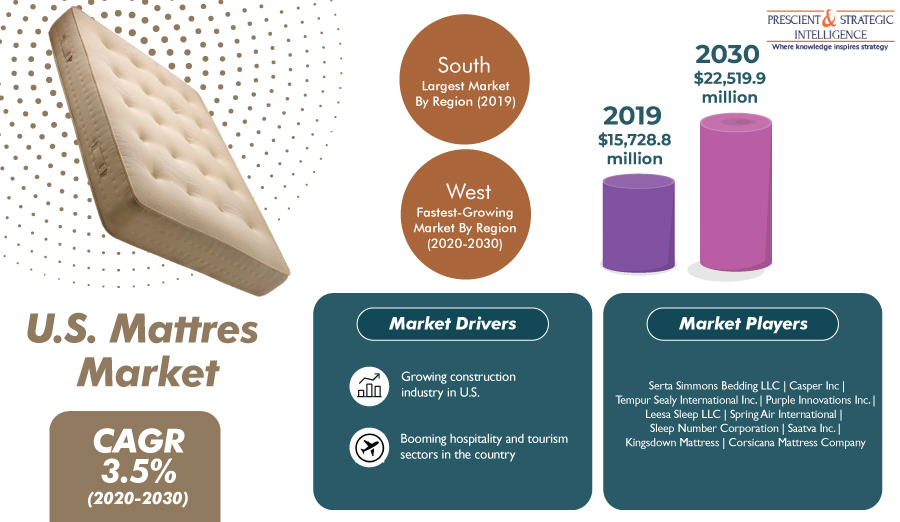 The mattress market in U.S. is projected to advance to $22,519.9 million by 2030 by P&S Intelligence.
The mattress market in U.S. is predicted to generate a revenue of $22,519.9 million by 2030, increasing from $15,728.8 million in 2019, progressing at a 3.5% CAGR during the forecast period (2020–2030), as per a report by P&S Intelligence. The major factors leading to the growth of the market are the rising infrastructure investments in the residential sector and rapidly expanding tourism industry of the country. On the basis of product, the market is divided into latex, memory foam, and innerspring.
When size is taken into consideration, the U.S. mattress market is categorized into king-size mattress, single-size mattress, queen-size mattress, and double-size mattress, out of which, the kin-size mattress category is expected to grow at the fastest pace during the forecast period. The increasing disposable income of people in the country is majorly driving the demand for these mattresses. Furthermore, the drop in prices of these mattresses has also made them highly affordable for a larger number of people.
Download sample copy of this report: https://www.psmarketresearch.com/market-analysis/us-mattress-market/report-sample
In term of distribution channel, the U.S. mattress market is bifurcated into online and offline, between which, the offline division accounted for the larger share of the market in 2019. The offline channel includes furniture stores and supermarkets/hypermarkets, which are still considered to be the preferred option for people. This is because, people are still drawn to the "feel-and-touch" experience and want to check the aesthetic appeal of the product before buying it.
The expansion of the construction industry in the country is playing a major when it comes to the growth of the U.S. mattress market. Major focus is being paid to expanding the residential sector, owing to the rapidly increasing population. As per the U.S. Census Bureau, the construction spending in the country was $1.324 trillion in November 2019, which was a 4.1% increase in the spending in the previous year. Since the number of customers are increasing in the country, the demand for consumer products such as mattresses is growing as well.
Browse full report at: https://www.psmarketresearch.com/market-analysis/us-mattress-market
Market Size Breakdown by Segment
By Product
Innerspring
Memory foam
Latex
By Size
Single-Size mattress
Double-Size Mattress
Queen-Size Mattress
King-Size Mattress
By Distribution Channel
By End Use
By Region
South
West
Midwest
Northeast
Browse Other Related Reports
Mattress Market – https://www.psmarketresearch.com/market-analysis/mattress-market
Canada Mattress and Accessories Market – https://www.psmarketresearch.com/market-analysis/canada-mattress-and-accessories-market
Media Contact
Company Name: P&S Intelligence
Contact Person: Abhishek
Email: Send Email
Phone: +918887787886
Address:Noida Sector 2
City: Noida
State: UP
Country: India
Website: https://www.psmarketresearch.com/market-analysis/us-mattress-market