Oral Mucositis Market to Exhibit Moderate Growth Rate During the Forecast Period (2022-2032), Investigates DelveInsight | Key Companies – Galera Therapeutics, NeoMedLight, Soligenix, MitoImmune
As per DelveInsight, the Oral Mucositis market is anticipated to grow in the coming years owing to the increasing cancer incidence and the potential launch of novel therapies in the market.
DelveInsight's "Oral Mucositis Market Insights, Epidemiology, and Market Forecast 2032" report delivers an in-depth understanding of the disease, historical and forecasted epidemiology, as well as the Oral Mucositis market size, share, trends, and growth opportunities in the seven major markets (7MM) (i.e., the United States, EU4 (Germany, Spain, Italy, France), the United Kingdom and Japan).
The Oral Mucositis market report covers emerging drugs, current treatment practices, market share of individual therapies, and current & forecasted market size from 2019 to 2032. It also evaluates the current treatment practice/algorithm, key drivers & barriers impacting the market growth, and unmet medical needs to curate the best of the opportunities and assess the underlying potential of the market.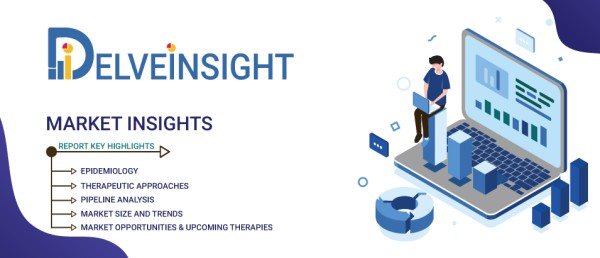 Oral Mucositis: An Overview
According to the Oral Cancer Foundation (2022), Oral Mucositis (OM) is probably the most common, debilitating complication of cancer treatments, particularly chemotherapy, and radiation. It can lead to several problems, including pain, nutritional problems due to the inability to eat, and an increased risk of infection due to open sores in the mucosa. It significantly affects the patient's quality of life and can be dose-limiting (i.e., requiring a reduction in subsequent chemotherapy doses). Oral Mucositis occurs when cancer treatments break down the rapidly divided epithelial cells lining the gastrointestinal tract (which goes from the mouth to the anus), leaving the mucosal tissue open to ulceration and infection.
Commonly observed signs and symptoms of Oral Mucositis are red, shiny, or swollen mouth and gums; blood in the mouth; sores in the mouth, gums, or tongue; soreness or pain in the mouth or throat; difficulty swallowing or talking; feeling of dryness, mild burning, or pain when eating food; soft, whitish patches or pus in the mouth or on the tongue and increased mucus or thicker saliva in the mouth.
"On February 15, 2023, Galera Therapeutics, Inc. (Nasdaq: GRTX), announced that the U.S. Food and Drug Administration (FDA) has accepted for filing and granted priority review to the New Drug Application (NDA) for avasopasem manganese for radiotherapy (RT)-induced severe oral mucositis (SOM) in patients with head and neck cancer (HNC) undergoing standard-of-care treatment."
Oral Mucositis Market Key Facts
According to Claudio et al. (2020), about 40% of the patients treated with chemotherapy develop mucositis; this percentage rises to about 90% for head and neck cancer patients (HNC) treated with both chemo- and radiotherapy.

As per Wilberg et al. (2014), in most of the Oral Mucositispatients receiving chemotherapy on an inpatient basis, 81.9% had grade 1 Oral Mucositis, 17.1%, and 1.3% had grades II and III, respectively.

As reported by Sonis et al., the frequency of oral mucositis is about 30% to 40% in the general cancer patient population.

Between 20% to 40% of patients with solid tumors receiving chemotherapy develop mucositis, usually within five to fourteen days of starting treatment, according to Brown TJ et al. (2020).
The market outlook section of the report helps to build a detailed comprehension of the historical, current, and forecasted Oral Mucositis market size by analyzing the impact of current and emerging pipeline therapies. It also provides a thorough assessment of the market drivers & barriers, unmet needs, and emerging technologies set to impact the market dynamics.
The report gives complete detail of the Oral Mucositis market trend for each marketed drug and mid & late-stage pipeline therapies by evaluating their impact based on the annual cost of therapy, their Mechanism of Action (MOA), Route of Administration (ROA), molecule types, competition with other therapies, brand value, and their impact on the market.
Oral Mucositis Epidemiology Assessment
The epidemiology section provides insights into the historical, current, and forecasted epidemiology trends in the seven major countries (7MM) from 2019 to 2032. It helps to recognize the causes of current and forecasted epidemiology trends by exploring numerous studies and research. The epidemiology section also provides a detailed analysis of diagnosed and prevalent patient pool, future trends, and views of key opinion leaders.
The Report Covers the Oral Mucositis Epidemiology, Segmented by –
Total Incident Cases of Oral Mucositis in the 7MM (2019–2032)

Grade-Specific Incident Cases of Oral Mucositis in the 7MM (2019–2032)

Treated Cases of Oral Mucositis in the 7MM (2019–2032)
Oral Mucositis Drugs Uptake and Pipeline Development Activities
The drug uptake section focuses on the rate of uptake of the potential drugs recently launched in the Oral Mucositis market or expected to be launched during the study period. The analysis covers the Oral Mucositis market uptake by drugs, patient uptake by therapies, and sales of each drug. Moreover, the therapeutics assessment section helps understand the drugs with the most rapid uptake and the reasons behind the maximal use of the drugs. Additionally, it compares the drugs based on market share.
The report also covers the Oral Mucositis pipeline development activities. It provides valuable insights about different therapeutic candidates in various stages and the key companies involved in developing targeted therapeutics. It also analyses recent developments such as collaborations, acquisitions, mergers, licensing patent details, and other information for emerging therapies.
Learn How the Oral Mucositis Market Will Evolve and Grow by 2032 @
https://www.delveinsight.com/sample-request/oral-mucositis-om-market
Oral Mucositis Therapeutics Analysis
The dynamics of the Oral Mucositis market are anticipated to experience a major positive shift in the coming years owing to the expected launch of major therapies. Research is underway to identify therapeutic targets and develop a curative therapy for treating Oral Mucositis.
Several major pharma and biotech companies are developing therapies for Oral Mucositis. Currently, Soligenix is leading the therapeutics market with its Oral Mucositis drug candidates in the most advanced stage of clinical development.
The Leading Companies in the Oral Mucositis Therapeutics Market Include:
BrainCool

Cellix Bio

Enzychem Lifesciences Corporation

EpicentRx

Galera Therapeutics

Innovation Pharmaceuticals

Izun Pharma

MitoImmune Therapeutics

Monopar Therapeutics

MuReva (Lumitex)

NeoMedLight

Prothex Pharma

Soligenix

Tosk
And many others.
Some of the Prominent Therapies in the Oral Mucositis Market Include:
Avasopasem manganese (GC4419): Galera Therapeutics

Brilacidin: Innovation Pharmaceuticals

CareMin650: NeoMedLight

Chemo Mouthpiece: Chemo Mouthpiece/ Aurora BioScience

Cooral System: BrainCool

EC-18: Enzychem Lifesciences Corporation

Episil: Camurus

GC4419: Galera Therapeutics

Kepivance (Palifermin): Amgen/ Swedish Orphan Biovitrum

MIT-001: MitoImmune Therapeutics

MuGard: Access Pharmaceuticals

MuReva Phototherapy System: MuReva (Lumitex)

RRx-001: EpicentRx/Prothex Pharma

SGX942: Soligenix

Validive (Clonidine Lauriad): Monopar Therapeutics
And Many More
The Report Covers the In-depth Assessment of the Emerging Drugs & Key Companies. Download the Sample Report to Learn More @
https://www.delveinsight.com/sample-request/oral-mucositis-om-market
Table of Content (TOC)
1. Key Insights
2. Executive Summary
3. Oral Mucositis Competitive Intelligence Analysis
4. Oral Mucositis Market Overview at a Glance
5. Oral Mucositis Disease Background and Overview
6. Oral Mucositis Patient Journey
7. Oral Mucositis Epidemiology and Patient Population (In the US, EU5, and Japan)
8. Oral Mucositis Treatment Algorithm, Current Treatment, and Medical Practices
9. Oral Mucositis Unmet Needs
10. Key Endpoints of Oral Mucositis Treatment
11. Oral Mucositis Marketed Products
12. Oral Mucositis Emerging Drugs and Latest Therapeutic Advances
13. Oral Mucositis Seven Major Market Analysis
14. Attribute Analysis
15. Oral Mucositis Market Outlook (In US, EU5, and Japan)
16. Oral Mucositis Access and Reimbursement Overview
17. KOL Views on the Oral Mucositis Market
18. Oral Mucositis Market Drivers
19. Oral Mucositis Market Barriers
20. Appendix
21. DelveInsight Capabilities
22. Disclaimer
*The Table of Contents (TOC) is not exhaustive; the final content may vary. Refer to the sample report for the complete table of contents.
Download the Sample PDF to Learn More About the Key Offerings of the Report @
https://www.delveinsight.com/sample-request/oral-mucositis-om-market
About DelveInsight
DelveInsight is a leading Business Consultant and Market Research Firm focused exclusively on life sciences. It supports pharma companies by providing comprehensive end-to-end solutions to improve their performance.
Connect with us and discover how Delveinsight can help you to identify your potential business partners and investors in the highly dynamic and evolving healthcare market today @ Healthcare Partner Identification Services
Media Contact
Company Name: DelveInsight Business Research LLP
Contact Person: Shruti Thakur
Email: Send Email
Phone: 09650213330
Address:304 S. Jones Blvd #2432
City: Las Vegas
State: NV
Country: United States
Website: https://www.delveinsight.com/