University of Washington Research Team Invents Ultra-Low Power Communication Method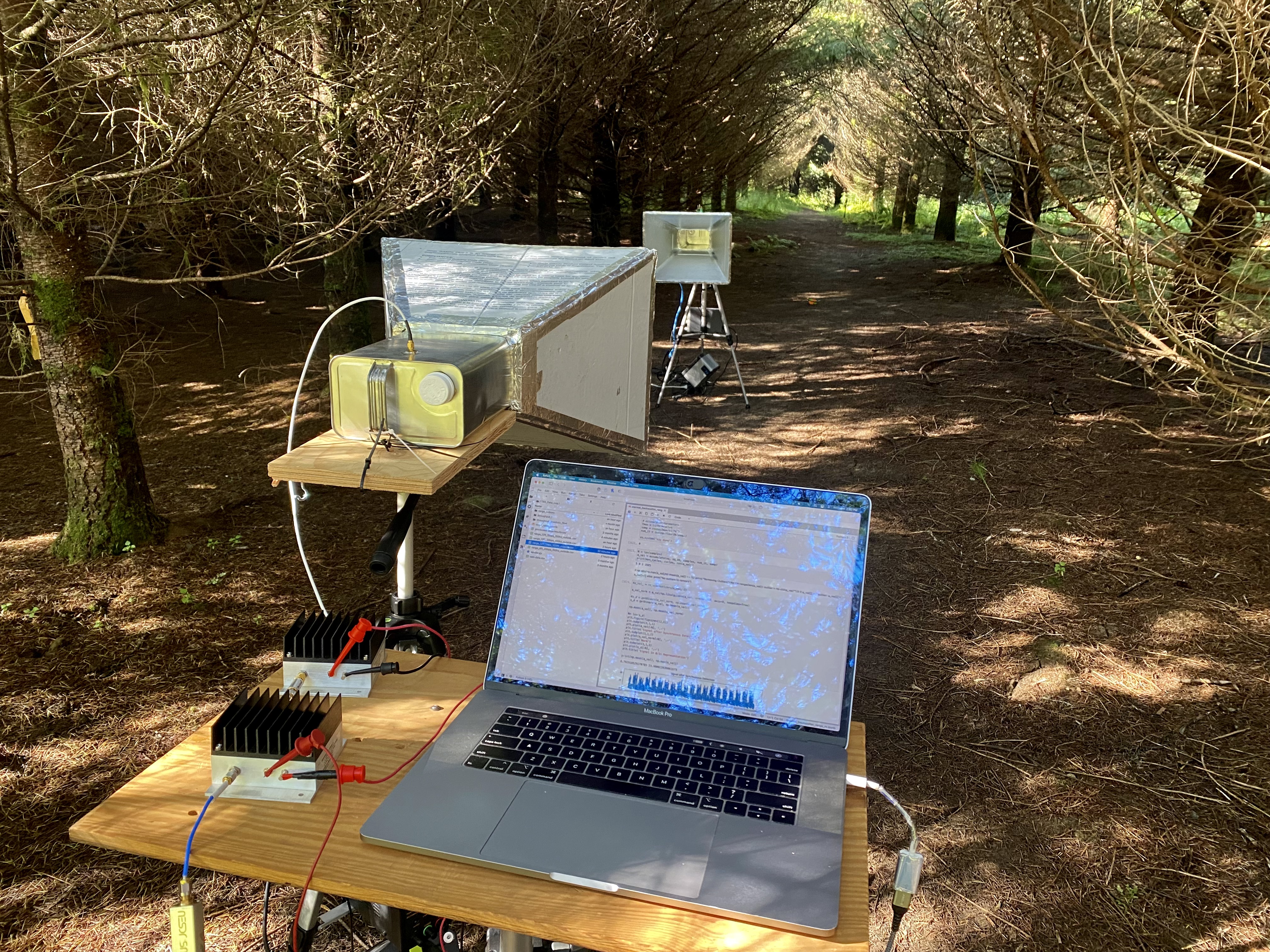 This discovery allows a device to wirelessly transmit data by flipping a switch that connects a resistor to an antenna, without sending power to the antenna.
A University of Washington research team consisting of ECE Professor Joshua Smith, ECE alumna Zerina Kapetonovic, and Department of Physics Professor Miguel Morales recently invented an ultra-low power communication method which allows a device to wirelessly transmit data by flipping a switch that connects a resistor to an antenna, without actively powering the antenna.
Widespread wireless communication devices work by transmitting information, often over long distances, using radio waves. This technique requires large amounts of energy to create and send those signals. In recent years, researchers have been developing methods of passive wireless communication, which allows devices to send information using pre-existing radio waves, which reduces energy use.
The research team at the University of Washington took passive wireless communication a step further. They have pioneered new technology that will allow for wireless communication with significantly less power using Johnson noise, electrical noise generated by thermal agitation of charge carriers in circuits.
The noise is usually considered a problem. "In general, when we think about noise in wireless communication, it's often viewed as a problem. It's interference," Zerina Kapetanovic, lead author of the paper and a recent UW ECE graduate says, "We're actually showing the opposite here, that this particular type of noise can be used to enable communication." Dr. Kapetanovic will be starting as an Assistant Professor of Electrical Engineering at Stanford in Autumn 2023.
The team's device connects and disconnects an impedance-matched resistor to an antenna. This modulates Johnson noise emitted by an antenna and allows information to be sent and received. "What is really exciting is that this is a completely new way to communicate," ECE Profession and project advisor Joshua Smith says, "When most wireless communication systems send information, they have to make a radio wave. So, for example, when I want to send information on my phone, it takes energy out of the battery and puts it into an oscillator. That oscillator connects to an amplifier and then into the phone's antenna, where a radio wave comes out. So, it takes a lot of power to do that," he explained. "We don't have to do any of the things you normally do to make a radio wave. Instead, we send information by controlling some thermal noise within the transmitter. When this noise is connected to the transmit antenna, the receiver sees a larger output signal; when it is disconnected, the receiver sees a smaller signal."
Applications of the invention could be far-reaching; it may allow future data-transmitting devices to work without the use of batteries or power sources. These devices range from small and everyday, like a keyboard mouse or cell phone, to medical devices, satellites, and agricultural farming tools.
About Joshua Smith
Joshua R. Smith is the Milton and Delia Zeutschel Professor in the Allen School of Computer Science and Engineering and the Department of Electrical and Computer Engineering at the University of Washington, Seattle, where he leads the Sensor Systems research group. He is a Fellow of the National Academy of Inventors and a Fellow of the IEEE. He leads the Amazon UW Science Hub. He was named an Allen Distinguished Investigator by the Paul G. Allen Family Foundation and he was the thrust leader for Communications and Interface in the NSF Engineering Research Center (ERC) for Sensorimotor Neural Engineering. Before joining UW he was a Principal Engineer at Intel. His research focuses on wirelessly powering and communicating with sensor systems in applications such as implanted biomedical electronics, ubiquitous computing, robotics, and space. He is a co-founder of three startup companies that are commercializing research from his lab: Jeeva Wireless, Wibotic, and Proprio. He received B.A. degrees in computer science and philosophy from Williams College, the M.A. degree in physics from Cambridge University, and Ph.D. and S.M. degrees from MIT.
About the National Academy of Inventors
The National Academy of Inventors is a member organization comprising U.S. and international universities, and governmental and non-profit research institutes, with over 4,000 individual inventor members and Fellows spanning more than 250 institutions. NAI was founded to recognize and encourage inventors with patents issued by the U.S. Patent and Trademark Office (USPTO), enhance the visibility of academic technology and innovation, encourage the disclosure of intellectual property, educate and mentor innovative students, and translate the inventions of its members to benefit society. The Academy and the USPTO have enjoyed a collaborative partnership since the founding of NAI. Most recently this has been reflected in their joint mission to expand access to the innovation ecosystem through a focus on diversity, equity, and inclusion. www.academyofinventors.org.
Media Contact
Company Name: Otter PR
Contact Person: Kelly Johsnon
Email: Send Email
Phone: 314-379-6151
Address:320 1st Ave N Suite 110
City: St. Petersburg
State: Florida
Country: United States
Website: OtterPR.com