Stephanie Zikmann's I Can Be A Dog Detective! is an Interactive Children's Picture Book that Promotes Safe Interaction Between Children and Dogs
I Can Be A Dog Detective! is a one-of-a-kind children's picture book that raises awareness of dog safety in a fun and engaging way.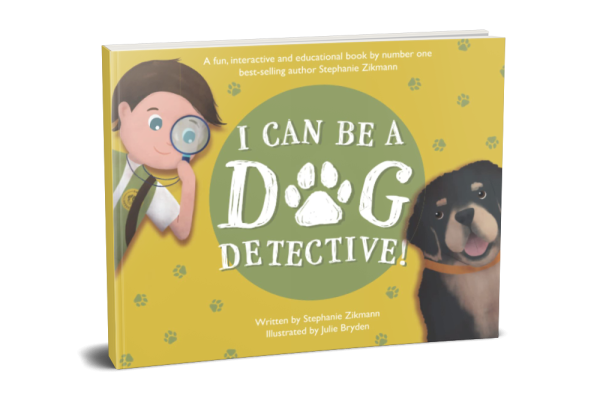 I Can Be A Dog Detective! is an interactive children's picture book that shares invaluable information on how to live with dogs safely. The story follows Jack the Dog Detective, a young dog enthusiast who believes it's his mission to help other children learn how to understand dogs better. To do this, Jack uses his magnifying glass to identify various ways a dog will try and speak with us to tell us how they are feeling, including what it means when a dog wags its tail, licks its nose, retreats to its cage, and more. Offering best practices for interpreting a wide variety of dog behaviors, the book is a great tool to help parents teach their children how to engage with dogs in a safe, practical manner.
"As a professional dog behaviorist and mother of three, I am very passionate about dog safety and feel this is a crucial educational book that makes an important topic fun and engaging!", says Stephanie Zikmann. A bestselling author and multi-award-winning entrepreneur, Zikmann drew inspiration for her debut children's book from a place close to her heart — her son, her own dogs, and her work specializing in dog training and rehabilitation. With I Can Be A Dog Detective!, her goal was to raise awareness about dog safety in a fun, engaging manner in order to transform the lives of families who may be struggling with adapting to life with children and dogs. "The ultimate goal of this book is to bring harmony within the family home, where children and dogs can learn to live together in a positive and safe way."
Kids of all ages will adore this entertaining and educational children's story. Brought to life with vivid, colorful illustrations, the story teaches children important lessons about communication and confidence. Set in different contexts including the family home and the local dog park, the book encourages children to stop and think about what a dog might be trying to tell them based on how they look and what they are doing. The interactive component of the book is a standout feature that sets it apart from others of its kind, by getting children involved and capturing their attention to ensure they retain what they are learning. In addition, the book also encourages children to recognize and value the differences in all beings — opening the door to a kinder, more compassionate world where all living things are embraced and celebrated.
A truly exceptional resource, I Can Be A Dog Detective! goes further to aid in understanding a dog's behavior by including lesser known tips such as how to identify specifically what your dog might want from you, and how a dog might communicate differently with other dogs than they would with a human. As a special touch at the end of the book, readers are awarded their very own "I Am A Dog Detective!" sticker, offering a memorable sense of proficiency and accomplishment.
I Can Be A Dog Detective! has received positive reviews from well-renowned experts around the world. Debby Lucken, Founder of Kids Around Dogs writes, "I Can Be A Dog Detective is exactly what kids need! Thank you for bringing it to life!"
"I Can Be A Dog Detective!" is an original, captivating read for people of all ages looking to better understand the needs of their furry friends. Available for sale on Amazon, readers are encouraged to purchase their copy here: https://amzn.eu/d/51XTEoM
Readers, parents, educators and book clubs are encouraged to visit the author's website for more information about the book and updates about new book releases: https://www.stephaniezikmann.com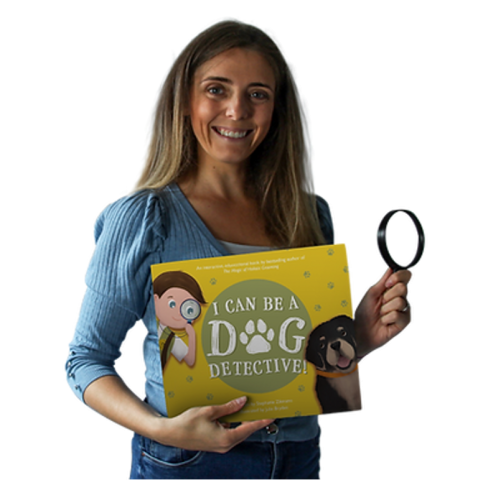 About the Author
Stephanie Zikmann is a multi-award-winning holistic dog groomer and canine behaviorist from Scotland, UK.
Having formed The Holistic Grooming Academy in 2020, Stephanie has went on to support and tutor over 100 pet professionals and owners looking to implement grooming in a less-stressful way.
An avid writer, Stephanie is the proud author of Number One Amazon Bestseller, 'The Magic of Holistic Grooming' and vocational training manual, 'A Teacher's Guide to Low-Stress Grooming'.
Stephanie is a dedicated educator with a passion for learning and helping others, utilizing her skills and expertise on a more holistic approach that incorporates canine behavior, positive training methods and safe handling measures to build confidence in dogs and their families.
Connect with Stephanie Zikmann on Social Media
https://www.facebook.com/theholisticdoggroomer/
https://www.instagram.com/theholisticdoggroomer/
https://www.linkedin.com/in/stephaniezikmann/
Media Contact
Company Name: Author News Network
Contact Person: Media Relations
Email: Send Email
Country: United States
Website: authornewsnetwork.com