Skillup Naija Disovers The Next Nigerian Inventors In Rivers State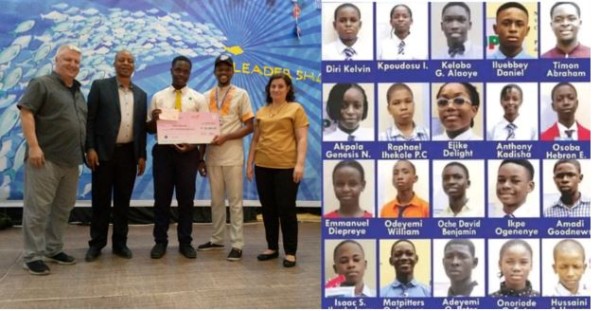 A passion-driven Nigerian skills development organization, SkillUp Naija House of Invention, the organizers of the Rivers State Teens' Craft Competition, has just discovered highly skilled teenagers from its competition in Rivers State.
The Rivers State Teens' Craft Competition is setup to encourage and support teenagers with unique technical, innovative and creative skills. RivCraft Competition as it's fondly called is organized with the full support of the Hon. Commissioner for Education, Prof. Prince Chinedu Mmom JP.
This competition, which encompasses technical, engineering and vocational craft, is designed to discover creative youngsters, empower them and make them resourceful and enterprising entrepreneurs of international repute. In Rivers State, RivCraft auditioned teenagers between the ages of 9 and 19, whether in school or out of school, and equipped them to showcase their nova creativity as it pertains to technical, engineering as well as vocational craft.
After which, those that were successful were brought online to compete for an ultimate prize of One million, five hundred thousand naira (N1,500,000) by showcasing their unique self-made innovation(s)/invention(s) of products like drones, robots, fuel less generators, electric vehicles, fashion designs, arts and paintings, machines and other technical, engineering and vocational craft.
During the cause of the competition, contestants were engaged in weekly task, and SkillUp Naija gave complimentary cash prize of Fifty Thousand Naira (50,000) weekly, to encourage the contestants. In the last week edition of weekly task, Abraham Timon, a fifteen years old inventor who developed a social media platform called Twike, a social platform that can rival Mark Zuckerberg's Facebook, came top. Closely followed by Raymond Okoro, another teenager who programmed a computer to do calculations and follow instructions.
There are other mind-blowing young inventors in this competition, the likes of Osoba Hebron, a robotic builders cum programmer, Kpoudosu Daisy Ineikoroghaere, the young girl who harness green electricity from aloe vera plant, Ejike Delight C., a game developer and many other outstanding youngsters with unbelievable inventions. These and many more make the ongoing Rivers State Teens' Competition quite interesting.
The Grand finale/Awards Event of the Rivers State Teen's Craft Competition promises to be much more interesting as there will be exhibition of the inventions and products developed by these teenagers, and the executive governor of Rivers State, his excellence, Governor Ezenwo Nyesom Wike CON and other dignitaries will be present at the event.
Currently, voting is still ongoing for the Rivers State Teen's Craft Competition at https://skillupnaija.com/rivcraft. And registration for other states like Delta State https://skillupnaija.com/deltacraft and Edo State https://skillupnaija.com/edocraft is on. The directors of SkillUp Naija House of Inventions, Mr. Austin Imoru and Pastor Kenneth Otidi instill that registration must be FREE.
You can contact the directors at –
Email: [email protected]
Tel: +2347038114922, +2348068474339
Media Contact
Company Name: Skillupnaija
Email: Send Email
Phone: +2347038114922, +2348068474339
Country: Nigeria
Website: https://skillupnaija.com