Michelle Booth addresses our fears of change and 'what ifs' in her new book "Navigating Uncertain Times"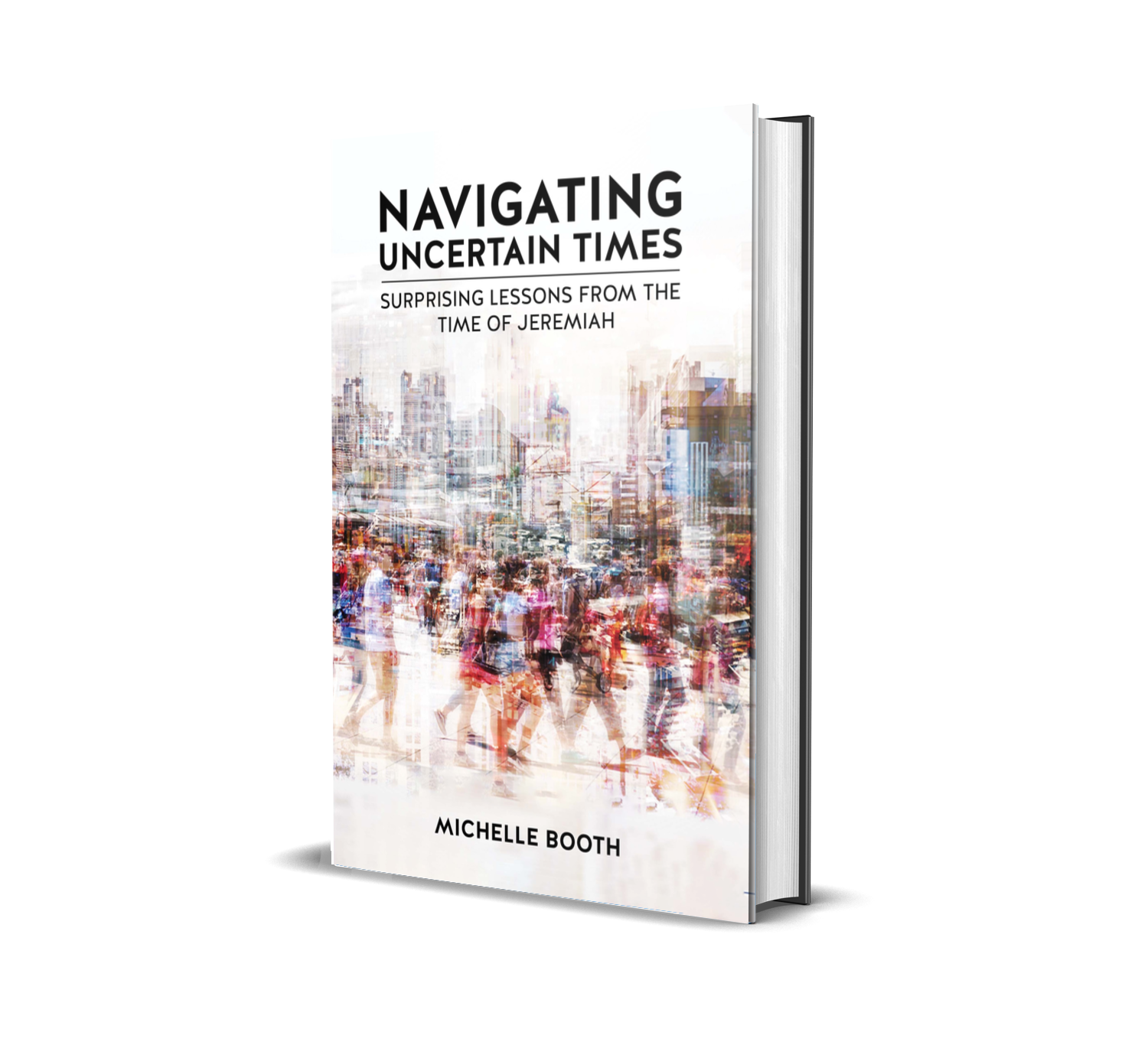 CHICAGO, Ill. – Kharis Publishing today announces the release of "Navigating Uncertain Times: Surprising Lessons from the Time of Jeremiah"(ISBN: 978-1637461570) by Michelle Booth, Pandemic. Inflation. Political crisis. If ever there were uncertain times, we are living in them!
How are you handling the unsettling changes in our world? Are you wondering how to navigate tricky relationships with those who have opposing viewpoints? Do you feel disconnected from fellowship? In Navigating Uncertain Times, you will learn from godly biblical leaders who were experts in surviving turmoil. Jeremiah, Josiah, Daniel, Habakkuk, and Ezekiel were contemporaries, and they encountered issues very similar to those of our current world.
These biblical leaders will show you how to:
Navigate a pluralistic society and create fellowship and acceptance for all
Pray and come to peace when faced with undesired circumstances.
Communicate tactfully as you maneuver in a fractured and unjust society
Experience realistic hope
Learn ways to heal as you look back on painful times.
Video Link: https://www.youtube.com/embed/-lBtrpd9Yag
According to Mary Kate Gleeson, Christian & Board-Certified Patient Advocate, "In these wildly uncertain times, we are feeling more unsettled and confused than ever. Our faith, security, health, and safety, all seem to be assaulted on a daily basis. What can we do? Fortunately, 21st century challenges are not entirely new. Old Testament trials and lessons have relevance and application in our world today. "Navigating Uncertain Times" by Michelle Booth, reminded me that we are NOT alone. Our faith ancestors can provide us with comfort and hope. We can persevere, by learning from those who have gone before us and move forward with newfound confidence and assurance. Don't miss your opportunity for newfound hope. Read this book! I am so grateful that I did!"
"Navigating Uncertain Times" is published by Kharis Publishing and is now available wherever books are sold, including Amazon: https://www.amazon.com/dp/1637461577 Retailers and other agencies may order copies from Ingram Content Group or through the publisher (ISBN: 978-1637461570): https://kharispublishing.com/kp/product/navigating-uncertain-times/
Michelle Booth is a mother, grandmother, author, speaker, and counselor. She loves to lead Bible studies and enjoys mission trips around the world. Michelle has a master's degree in counseling and is currently a school counselor. She has overcome many difficulties, including a debilitating disease, but thrives in her life and faith. Her passion is to help women and children learn to trust God and thrive through whatever circumstances they face.
About Kharis Publishing:
Kharis Publishing, an imprint of Kharis Media LLC, is a leading Christian and inspirational book publisher based in Aurora, Chicago metropolitan area, Illinois. Our mission is two-fold: 1. Provide an innovative publishing platform for professionals, Christians, pastors, workplace leaders to tell their story and share in a book form what God has put in their hearts, with a focus on under-represented writers (including women and first-time authors); 2. Equip orphans in developing countries with literacy tools. That is why, for each book sold, the publisher channels some of the proceeds into providing books and computers to orphanages in developing countries so that these kids may learn to read, dream, and grow. For a limited time, Kharis Publishing is accepting unsolicited queries for nonfiction (Christian, self-help, memoirs, business, health and wellness) from qualified leaders, professionals, pastors, and ministers.
Learn more at: https://kharispublishing.com/
Media Contact
Company Name: Kharis Media LLC
Contact Person: Rufus Philip
Email: Send Email
Phone: (630) 423-6309
City: Aurora, Chicago
State: IL
Country: United States
Website: https://kharispublishing.com/kp/product/navigating-uncertain-times/