Love'N App launches a new project to the crypto where users can earn by kissing.
Love'N is a kiss to earn application where holders can receive rewards by kissing their loved ones. The platform is built on Binance Smart Chain offers many unique features.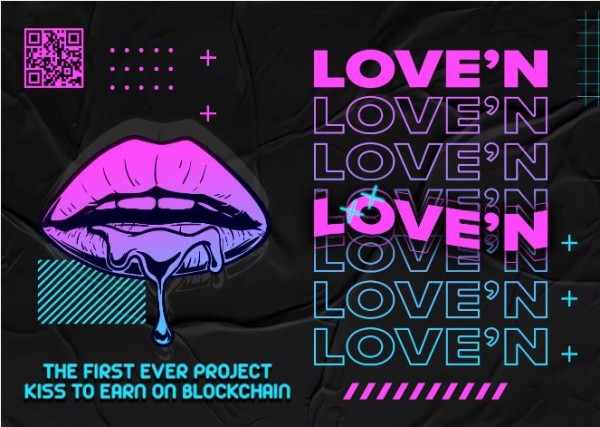 The era of social networking 4.0 and blockchain have covered all around the world, where people can find love and share happiness with just 1 phone, 1 phone app, 1 mess or even. with only 1 icon. But do you know that after all, there will be one thing in common. That is a kiss, which is indispensable in love. No one loves each other without kissing. So what is the different for kissing in blockchain? That's you can earn money through our Love'n app. Love'N is a kiss to earn application, when you kiss, the reward will be more than a kiss.
Love'N App is built on Binance Smart Chain platform. In version 1.0 there will be 3 challenge packages for you to choose: 1-minute kiss challenge, 3 minutesand 5 minutes. The app will be integrated with AI through the camera to analyze when two people's lips touch each other continuously for the selected time period. The countdown timer will run continuously until the challenge is passed. In addition to the scientifically proven benefits of kissing, you will receive additional token reward that match your chosen challenges, that's the point
In the next versions of the app, there will be more features developed, there will be events and 4.0 gift shops developed on the metaverse space.
With a young team but full of enthusiasm and experience in the blockchain industry, coming from many countries around the world, we understand many different cultures, and both will contribute all the passions to make Love'N app the most successful blockchain project and definitely open a new trend in 2022.
Official Links:
Website: https://loven.finance
Telegram channel: https://t.me/LoveNK2Eann
Telegram group: https://t.me/LoveNK2E
Twitter: https://twitter.com/LoveNToken
Youtube: https://www.youtube.com/c/Love'NKiss/videos
Media Contact
Company Name: Love'N
Contact Person: Benjamin walker
Email: Send Email
Country: Singapore
Website: https://loven.finance