Grandma's dining table becomes a haven for young Chinese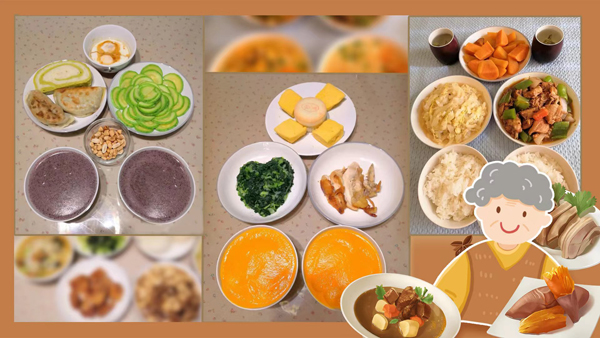 "Dear grandma, I was diagnosed with bipolar disorder and severe depression two months ago. I work hard during the day to make a living but I lose control at night, overwhelmed by grief and loneliness. I'm trying to take antidepressants, to pull myself together, to stay alive."
This comment was left below a photo posed by a 74-year-old woman on China's lifestyle-focused social media platform Xiaohongshu, or "Little Red Book." The post includes a few pictures of simple but inviting dishes. The woman, who told us to call her "Grandma" when we contacted her as she preferred to remain anonymous, began sharing photos of her daily life, mostly three meals a day, interspersed with shots of excursions to tourist sites, dining in restaurants and playing sports. Her username is "Jiankangzhenhao," which means "being healthy is a blessing."
At the beginning there were barely 100 followers, but pictures of her home-cooked meals were a stark contrast to the glamour shots of entrees that pervaded the platform. Day by day, the three meals a day laid out on a pink flowered tablecloth quickly appealed to roughly 440,000 users, from students to white-collared professionals to housewives. They all call her "Grandma," indicative of a warm persona that they can confide in.
The quote at the beginning comes from 25-year-old Huang Sai. She left that message the moment she found she couldn't afford rent. She lives alone in the southern metropolis of Shenzhen, struggling with a persistent sadness from childhood in addition to financial stress. "Many problems simply don't go away and I'm just counting the days," she murmured. She started following Grandma as she found her to be full of life, even though there wouldn't always be responses to the comments she leaves.
"Sometimes we are too inconsolable to get out of our emotional hell," Huang said. "The utopia Grandma has created makes me believe that life might not be as tough as we imagine. As long as we eat our fill, that's enough."
In this utopian world, Grandma, a native of Beijing, lives in the eastern city Hangzhou and enjoys her retirement with her 79-year-old husband. Their meals are varied: poached eggs, steamed buns, millet congee or pumpkin porridge for breakfast; bouillabaisse, braised meat and steamed dumplings for lunch; potage, wontons or rolls for dinner. Vegetables usually appear in a stew, or squeezed into juice with fruit. Sometimes Grandma would add a recipe to the dishes followers ask about most. The elderly couple also go to Starbucks to grab a dessert or make salty milk tea in the afternoon. Reading, swimming and strolling in a park appear alongside the gourmet arrangements on their dining table.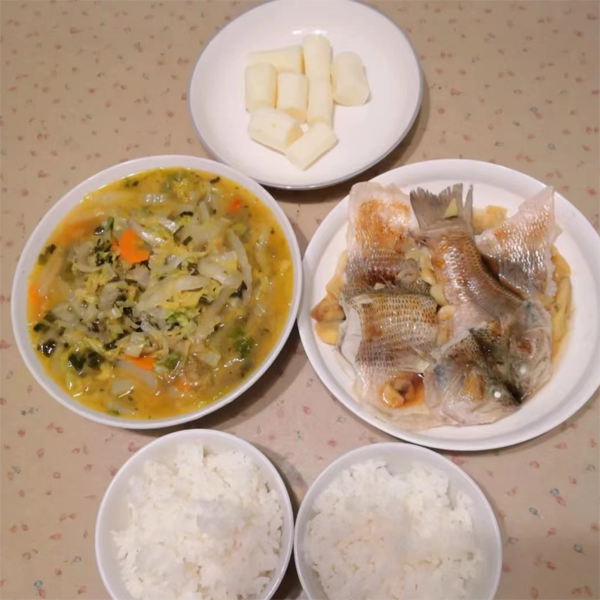 A picture of lunch dishes Grandma posted on Xiaohongshu. /Courtesy of Grandma
Tang Tian, 23, just joined an internet firm in a small city in southern Guangdong upon graduation from a university in Australia. "In order to match my major in supply chain management, I chose this company in this obscure place far from my family in Hangzhou. The first day at work was very stressful, making me have sort of a breakdown, and I miss home," she said over the phone. After finding Grandma is a Hangzhou dweller, she was excited. And when Grandma replied, "It should be fine. Just try your best," her spirits were lifted.
Zhou Le, a native of central Henan who now works as an intern in Shanghai, likes to share little joys in her life with Grandma. "Morning, Grandma. I just had soy milk and bread for breakfast. And I've never been late for work till now," she typed these words under one of Grandma's breakfast notes. Grandma replied, "You are much better than me. I used to be late for class when I was a student."
"That reply made me feel she's very amicable. So gradually I consider her to be one of my family members. Another thing I've learned is to eat healthy and be optimistic like Grandma. I also recommend Grandma's account to my parents," Zhou told us. She said it's easier to talk about her problems anonymously on social media than telling her parents, who probably wouldn't understand what she's going through in a coastal metropolis.
There are also college students asking Grandma about recipes so that they can cook for their grandparents when they go back home during the holidays.
"Talking with these kids is a pleasant thing. I hope my posts can serve as tree hollows where they can tell their everyday life, their pains, sorrows and happiness," Grandma said in a booming voice.
In November, Grandma's account became a trending topic on China's popular social media network Weibo, with the hashtag "Two seniors' three meals a day." Many social media users posted, "This is my ideal retired life."
A virtual haven
Like Huang, many young adults in China live in big cities alone, do what they deem to be a mediocre job, frequently face pressure from parents to get married and have a child while seeking both spiritual and material betterment.
Fascinating societal change in China shapes city life as well as people's state of mind. It's easy to feel physical and mental exhaustion. College students are worried about their dissertations; fresh graduates are afraid of making a mistake at their first job; millennials might already struggle with a midlife crisis.
"When I have a meltdown, I'd take a look at Grandma's account. She reminds me of my own grandma," said Li Daming, a freshman at the Central Academy of Fine Arts. She caught the sight of the pictures of Grandma's dining table while swiping on her phone to reduce stress right before gaokao, or the National College Entrance Exam, last June.
Besides having a sense of home, Li, who was obsessed with weight loss and a flawless body image, also found comfort in browsing Grandma's regular and healthy diets. "Dear Grandma, I had creamy paella for lunch. Though I didn't eat much, I think it's a new beginning as I didn't calculate the calories!" read one of her latest messages.
In the little virtual space, strangers seeking consolation from Grandma's dining table find an emotional connection with each other, too. Li's message attracted several users who had the same problem to encourage her to pursue a balanced diet.
Girls with eating disorders are learning to reconcile their relationship with food; pregnant women experiencing morning sickness find Grandma's meals appetizing; office workers come to see what the senior couple have had when hesitating over what to eat for dinner…
Meanwhile, they share small annoyances and little joys, wean each other off distressing emotions, and even offer solutions to each other's problems.
"Here people show their most tender, most gentle part of their heart. I realized for the first time that strangers can heal, too," Li said.
Liu Tong recently found a cyst in her liver and was anxious that an upcoming physical exam would ruin her new job which she worked hard for. Her message received many replies, giving her confidence. "It's great that warmth can be passed on."
By scrolling down the messages below any of Grandma's notes, you can experience the gamut of human feelings, and what's more, how people give each other courage to move on. Grandma feels that she has gained something from this as well.
"In the past, I always tried to live up to others' expectations and I thrived on that. But now I realize that it's okay to live my life however I want," said Huang wistfully.
Media Contact
Company Name: The Information Office of Hangzhou Municipal Government
Contact Person: Cai Jingwen
Email: Send Email
Phone: 0510-68559077
Country: China
Website: http://www.ehangzhou.gov.cn/