Budget Golf Cart Rental Debuts New Customized Golf Carts, Adds Pick-up And Drop-off Services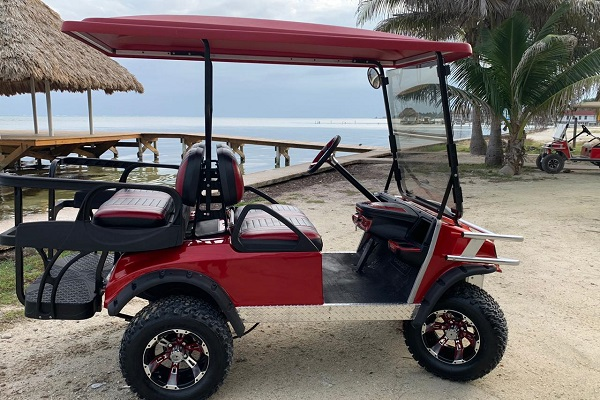 Budget Golf Cart Rental is pleased to announce that it has updated its inventory by adding new customized golf carts to its already impressive array of reliable golf cart automobiles.
Describing itself as a customer-centric company, Budget Golf Cart Rental says it was founded to meet the needs of visitors to Ambergris Caye, by providing a stress-free golf cart rental experience, specifically curated to make all guests feel like royalty. And to make the experience more convenient, the company has added a pickup and drop-off service to its offerings, which will allow customers to receive and return rentals directly from their hotels, condos, Airbnbs, and resorts on the Ambergris Caye.
Budget Golf Cart Rental is a 100% Belizean family-run business created in 2013. With two locations in the town of San Pedro, the company has earned the reputation as one of the best providers of pristine customer service to tourists and visitors of Ambergris Caye.
Regarding the quality of its golf automobile, Budget Golf Cart Rental relies on the services of Club Car which is recognized in the United States for its durability, reliability, and multipurpose use. Its 2021 model vehicles are some of the most impressive models available on the market, and the company insists that maintenance of the cart is run using genuine parts provided by Club Car, to ensure maximum safety and dependability.
Perhaps the most interesting feature of Budget Golf Cart Rental is its ability to offer such an amazing and all-inclusive service, at one of the cheapest rates available in San Pedro. Just as the name implies, Budget Golf Cart Rental is pocket-friendly and fits perfectly into any budget – letting tourists easily rent golf carts for months, weeks, days, and even for just a few hours. Rentals go for as low as $15 on the 4 seaters, and about $40 on the 6 seater golf carts. Bookings can be made online, and the company receives payment through visa and master cards.
Media Contact
Company Name: Budget Golf Cart Rental
Contact Person: Mark
Email: Send Email
Country: Belize
Website: https://ambergriscayecartsbelize.com/