Executive Medical Hosts 5th Annual Patient Appreciation Event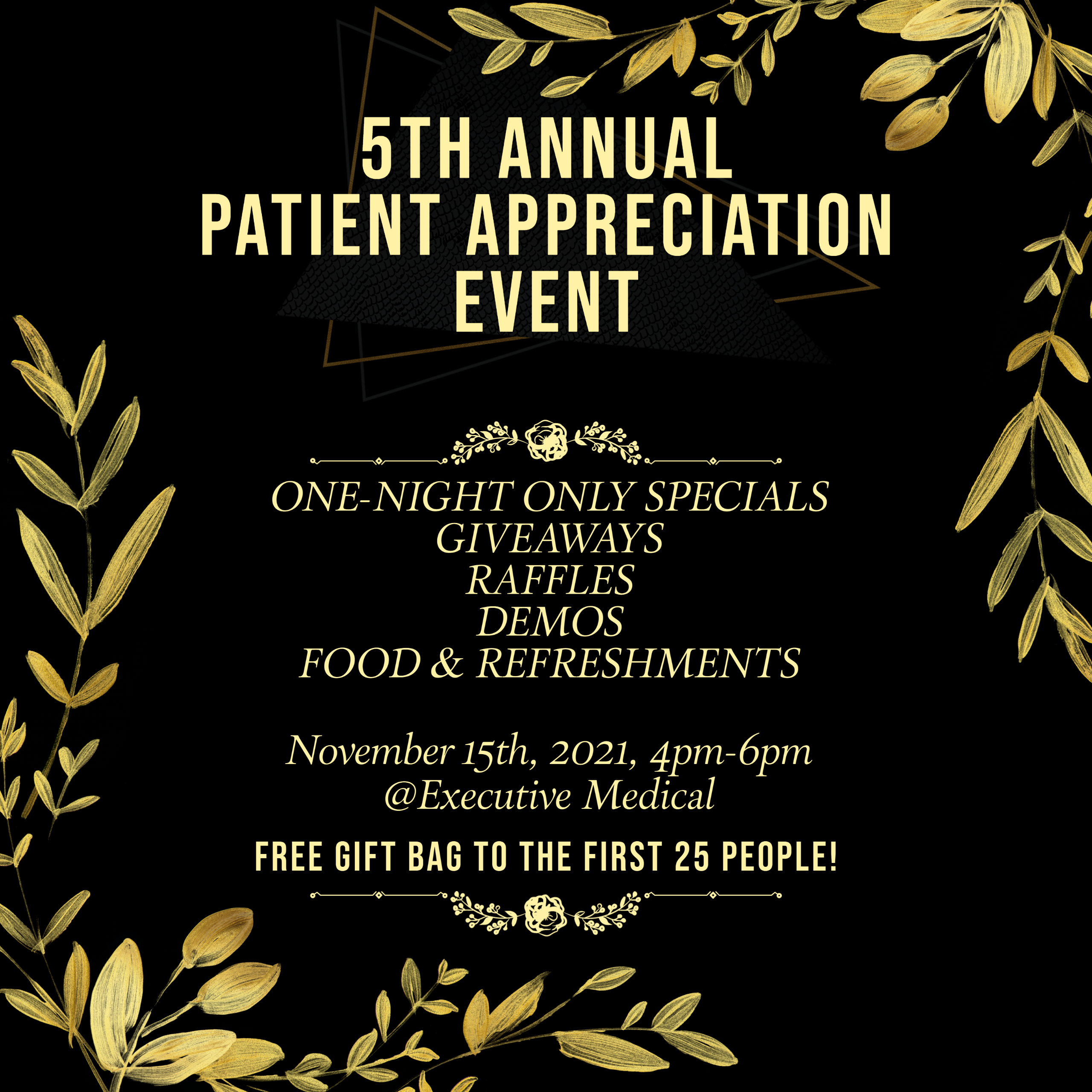 5th Annual Patient Appreciation Event. One night only specials, giveaways, raffles, demos, food & refreshments. Monday, November 15th, 2021 from 4pm-6pm at Executive Medical.
Executive Medical hosts its 5th Annual Patient Appreciation Event on November 15th, 2021 at 4-6pm.
SAN DIEGO – October 28, 2021 – Executive Medical will be hosting its fifth annual Patient Appreciation Event on Monday, November 15th, 2021 from 4pm-6pm. The free event provides patients a chance to chat with their nurses and medical providers while learning about the newest aesthetics offerings available. There will even be free refreshments, raffles and giveaways!
As they were unable to host the event in 2020, the Executive Medical staff has been looking forward to bringing everyone together once again in their San Marcos clinic.
"We are excited to have our first event post-COVID," Dr. Mike Woo-Ming, owner of Executive Medical, said. "This annual event is our way of thanking our patients for their loyalty. We feel honored to have been helping North County San Diego improve for almost 10 years now."
Executive Medical opened up almost ten years ago, and since then has become a full-service medical wellness and weight loss clinic. They were one of the first clinics to offer BioTE, bio-identical hormone pellets, as a service to San Diego County residents and beyond. This life changing procedure has helped both men and women feel healthier and happier.
Even now, the San Marcos clinic continues to offer new services for its patients. Recently, they announced VirtueRF Microneedling and the TetraCO2 CoolPeel. This Ultimate Duo gets rid of pesky wrinkles and fine lines while tightening and rejuvenating skin. Both of these offerings will be showcased at the Patient Appreciation Event.
The Executive Medical staff invites everyone to visit the event. There will be exclusive specials only for those participating. For more information about the event, visit their website at execmed.org or call 760-290-3552.
Media Contact
Company Name: Executive Medical
Contact Person: Jenny Seaboldt
Email: Send Email
Phone: 760-290-3552
Address:1537 Grand Ave Suite A
City: San Marcos
State: California
Country: United States
Website: execmed.org