A Buying Guide for Different Camping Table Style
With so much that the great outdoors has to offer, the average American only spends 7% of their life outdoors. That's only half a day per week spent outside!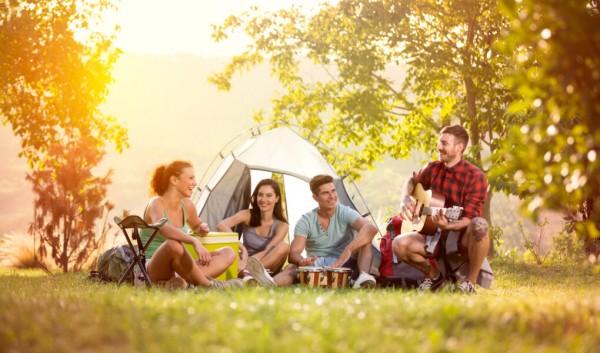 With so much that the great outdoors has to offer, the average American only spends 7% of their life outdoors. That's only half a day per week spent outside!
Perhaps people think that being outside doesn't offer the same convenience as being inside. That the only way to be outside is to gather by the campfire, instead of a table.
But it's not like that anymore! There has been an increase in lightweight, portable products that make spending time outside not only easier but so fun and relaxing that people can't wait to go back.
This article will show everyone the different styles and options for camping tables available that'll make people look forward to the next big outdoor adventure or, having a nice dinner in backyard.
Different Table Style Since a popular camping activity is cooking together with friends and family, having a good camping table to eat around together is crucial. The last thing people want is to hold a hot plate in their hands or keep it in their lap while awkwardly hunching over to eat.
Once people have one of these tables, they will question how they went so long without one as the uses for them are endless!
Sure they're called camping tables, but they are foldable and lightweight tables that are super easy to take and set up on hunting trips, in the backyard, even for a day at the beach.
Like indoor tables, there is no one-size-fits-all for camping tables. Several different styles exist today to meet a variety of needs, interests, and activity levels.
Styles to choose from:
Standalone TablesTables with SeatsTables with SinksTables with Sinks and Faucets Standalone Camping Table Standalone camping tables are portable picnic tables that once set up, provide everyone with a sturdy space to gather around. These foldable tables are easy to prop up in any outdoor space and easy to carry out when they're done.
The Outsunny Aluminum Portable Picnic Table is the perfect example of this. It's a super lightweight table that's easy to stow away and doesn't take up any room. It comes with two storage organizers underneath that zip open and close to safely store kitchen utensils, cooking gadgets, or bigger items like towels that people may use outside.
If having two storage organizers isn't enough there's the option with three storage compartments and four aluminum table tops for ample surface room. This option also comes with a windscreen to maximize heat retention and to offer more protection so items don't fall off the table onto the ground with the wind.
There are even options without the storage organizers for even more portability and ease of use. All prople need to do is unfold the table, lock it in place, and it's done. The material is water and stain-resistant to maximize a worry-free outdoor time and make clean-up as simple as possible.
The carrying handles fit perfectly in people's hand. Making the standalone table not only perfect for camping, but perfect for a beach day, picnic outing, or to set up in the backyard for a party.
For even more ease, consider a camping table that already comes with seating. These tables are camping essentials as they minimize the amount of stuff people need to bring with them. The lighter people travel, the less people have to set up and the more time people have to relax and enjoy the outdoors.
With the Outsunny 4 Person Wooden Portable Table people can have all of that, without sacrificing comfort and style.
It folds down to the size of a suitcase, weighs 9 lbs, fits in the trunk of a car, and also comes with a convenient carrying handle. The seats are interconnected with the table so that when people unfold it, everything is all set and ready to go.
The wooden finish of this table is stylish and will blend in beautifully with any backyard or patio furniture.
This table also comes in green, blue, and silver finishes, which make these perfect as a dedicated craft or game table. The umbrella hole in the center suits most outdoor umbrellas and allows people to maximize their time outside if people are looking to have some shade.
The embedded seats make this a perfect option not only for family travel but as a designated kids table in the backyard.
The Outsunny Camping Table and 2 Chairs Set include two chairs and a table. While these are all separate parts, they collapse and fit in a convenient carrying bag. The mesh and Oxford cloth material make for a super lightweight and breathable fabric.
The non-slip feet on this set make this not only great for camping but the perfect chair to bring to sporting events, parks, boats, even a friend's house if people want guaranteed seating during a barbecue. With the included cup holder on the table, this is the set to take for any outing.
Weight Capacity
While tables with seats do come in handy, be sure to check the weight capacity per seat!
Portable camping tables with seats attached have a weight capacity of 176 lbs per seat. The exception to this is the steel finish. This model weighs only 20 lbs but has a weight capacity of 220 lbs per seat.
The chairs in the separate set have a weight capacity of 265 lbs.
Instead of spending money on buckets for a makeshift sink while camping, try a table that already comes with sink space!
These tables are convenient camping furniture as they offer the same ease of carrying and use as the portable picnic tables but, have the additional feature of sink space for washing and storing.
The Outsunny Folding Fish Fillet Cleaning Table weighs 23 lbs and comes complete with sink space and drainage. Not filleting fish? This camping table is still perfect as the sloped surface guides any excess water from ice melt and condensation to the drain hole.
The drain hole comes with an attached hose that can be adjusted in length. The high-density plastic and steel construct makes for a sturdy, stable, and durable table people enjoy for years to come.
It's a perfect table to set up ice-cold drinks for party guests to grab, without having them fish for it in cold melted ice water as time goes on. It's the perfect table to have in the backyard to repot plants on as washing the dirt off is quick and easy.
Camping Table with Sinks and FaucetNeeding a little more than the sink?
The Outsunny Portable Folding Easy-Clean Camping Table comes with a faucet attachment that hooks up easily to a water hose. The dual basins make washing and storing dishes, foods, even clothes if needed, super easy.
This table also features a slot to hold garbage bags which allows for quick disposal of any vegetable ends or peels during cutting up and preparing food, to any leftovers that need to be tossed before washing dishes.
It also has a handy clamp securely mounted to the edge of the table. This clamp can hold the water hose if needed, or a fishing rod as this is a table can easily be brought on fishing trips as well.
Between the garbage, cleaning items, and utensils, the steel frame of this table holds up to 132 lbs of stuff while weighing 22.4 lbs!
A larger Outsunny Folding Fish Cleaning Table includes all the above features plus two stainless steel bowls, a fillet knife, odor removing bar, a cutting board, and a wire shelf under the table.
The wire shelf provides storage room for any cooking or cleaning items brought along. Since this table can hold 220 lbs worth of stuff, that's plenty of room and strength for storage.
The best is that these offers all of that convenience usually only found indoors, in portable and lightweight camping furniture people can use outdoors. Trying any of these delicious camping meals with these tables will be a breeze from prep to clean-up.
Explore the Different Camping TablesEven if people are not going to embark on an outdoor adventure anytime soon, these camping tables are great for backyard gatherings, hunting trips, and beach days. They are portable and lightweight enough to allow people to easily increase their outdoor time and look forward to doing so too.
Media Contact
Company Name: Aosom
Email: Send Email
Phone: 877-644-9366
Country: China
Website: https://www.aosom.com/