YOUR GREATER IS RIGHT NOW: Living as God's masterpiece instead of life's middle class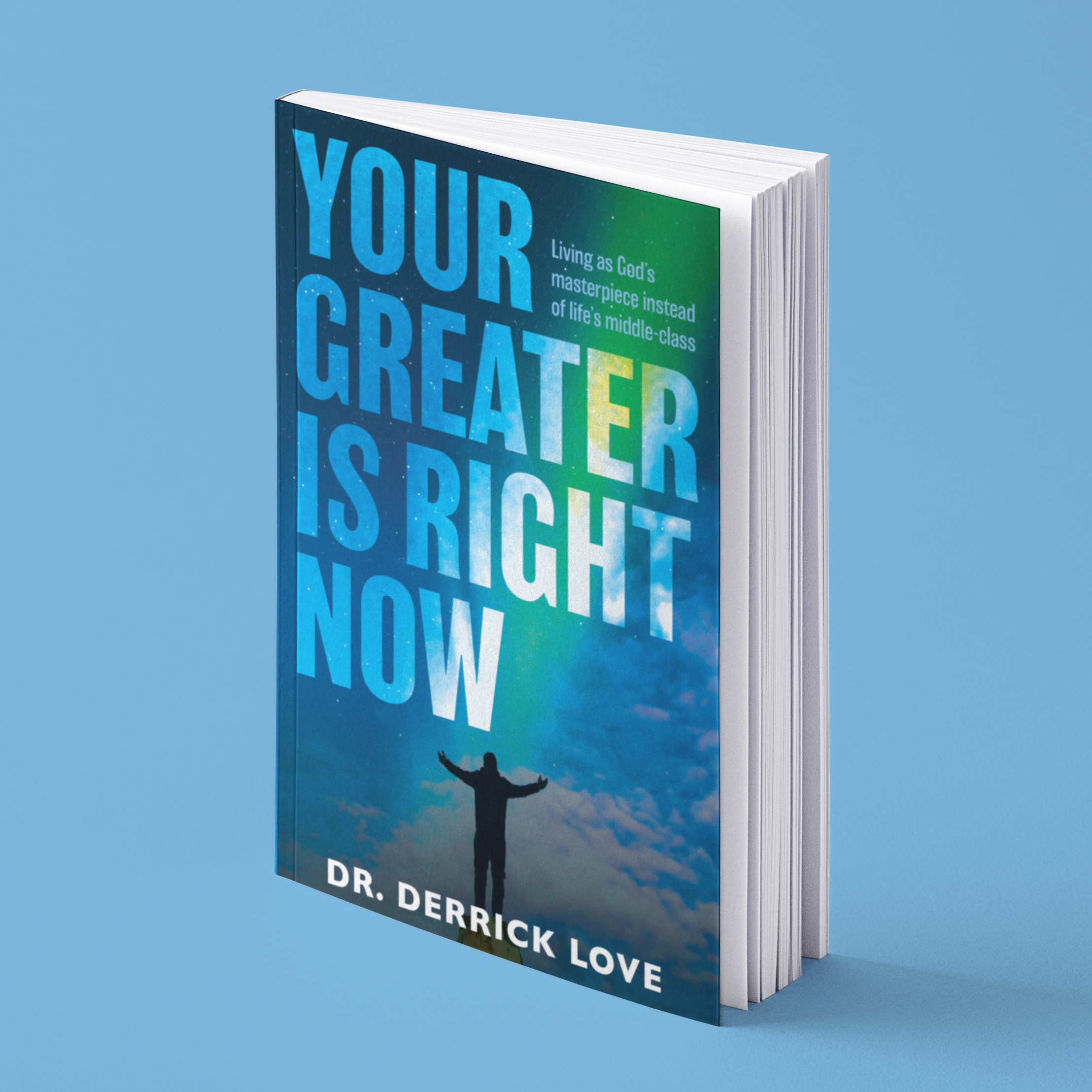 Your situation or circumstance does not define you. We may not all achieve greatness in the same way or at the same time, but the good news is that we all have greatness inside of us.
"Sometimes we go through a whole lot of misfortunes and we tend to believe nothing good will come out of us again. Truth is, the fact that we have been experiencing misfortunes for a while does not mean are a misfortune. Things can just turn around in our favor when we take charge of the situation. The greatest challenge to achieving your purpose is being caught in the trap of not fully recognizing your potential or seeing yourself through the lens of Christ."
"Your Greater is Now is right on time and what people need regardless of where they are at in life. Dr. Derrick Love takes the reader on a personal transparent journey towards living a greater life in a Christ Jesus. Using scripture, real life examples, and personal application Your Greater is Now is both informative and a guide that will lead you to a greater life. I highly recommend this book to anyone who is tired of living a life of mediocrity and ready for greatness now." – Kenneth M. Chapman Jr., Ph.D Education Administrator Associate Pastor
"I strongly recommend this book for those who want to make a personal commitment to define or redefine their greatness as well as release your mind from every limitation. If you want to live your life free of mediocre thought and words, and want to see, think, and speak greatness from now on, read this book!" – Dr. Greta A Peay, Chief Executive Officer and Founder Infinity: Diversity Matters, LLC Retried School District Executive administrator.
According to Dr. Love, Everyone has equal potential to be great. Greatness is not limited to some people and removed from the path of others. Greatness is not synonymous with culture, tribe, race, or nationality. Greatness is defined as an individual's inner will to achieve success. In his play Twelfth Night, playwright William Shakespeare wrote, "Some are born great, some achieve greatness, and some have greatness thrust upon them." The bottom line? Everyone has the potential to be great.
Dr. Love's book, YOUR GREATER IS RIGHT NOW, has just been released by Kharis Publishing, imprint of Kharis Media LLC, and is now available wherever books are sold, and may be purchased directly from amazon or authorclearance.
Available on Amazon: https://www.amazon.com/dp/B08LMWG5BM
Book retailers or organizations are able to order directly through Ingram Content Group or from Author Clearance at: https://www.authorclearance.com/contact/
About Kharis Publishing:
Kharis Publishing, an imprint of Kharis Media LLC, is an independent book publisher focused on inspirational and faith-based books. Kharis' dual mission is to give voice to underrepresented writers, and equip orphans in developing countries with literacy tools. That is why, for each book sold, the publisher channels some of the proceeds into providing books and computers for orphanages in developing countries, so these kids may learn to read, dream, and grow.
Learn more at: https://www.kharispublishing.com/
Media Contact
Company Name: Kharis Media LLC
Contact Person: Chelsea Brown
Email: Send Email
Phone: 4795998657
City: Aurora, Chicago
State: IL
Country: United States
Website: https://www.kharispublishing.com