Talented Entertainer, Zoe Rosegold Set To Take The Music Industry By Storm

Beautiful hi hop artist, Zoe RoseGold, continues to disrupt the entertainment industry with her debut EP "The Rose Gold Tape" garnering reviews worldwide
November 11, 2019 – Described as "the International Force of Millennial Pop Culture," Zoe RoseGold has continued to effortlessly entertain her millions of fans across the globe with her unique musical talent. Born with a Haitian/Brooklyn bloodline running through her veins, Zoe RoseGold has shown her undeniable musical gift, which she has continued to share with the world.
"YoYo," is the lead single from her commercial streaming debut EP "The Rose Gold Tape," has helped to introduce Zoe to the world stage in the best way possible. In addition, to be an amazing Hip hop artist, Zoe RoseGold is also known for her captivating performances on stage, making her a fan's favorite at clubs in different parts of Brooklyn. The Haitian born recording artist has created a social media buzz, with her music versatility gives her a competitive advantage in today's Hip-Hop culture.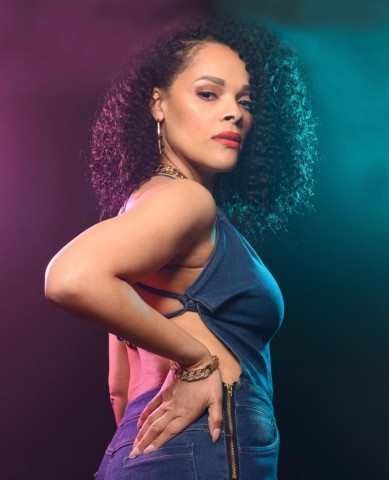 "The Rose Gold Tape" is comprised of nine contrasting international tracks infused with Zoe's musical Midas touch. The Rose Gold Tape takes every listener on a deep and introspective journey into the multi-layered universe of "Zoe RoseGold." "The Rose Gold Tape" has received global critical acclaim from multiple magazines, DJs, and music executive heavyweights. The beauty of Zoe Rose Gold is not just her external, but her ability to reach the hearts and souls of people via her music. Zoe RoseGold is a strong and radiant child of God. She is a rose growing through the concrete cracks of Brooklyn. Brooklyn is a different type of animal, and only the strongest survive in the game of life. Zoe RoseGold is proving to be an International Force of Millennial Pop Culture.
It is a literally sandwiched environment at a Reggae club in Brooklyn with 60% female and 40% male in attendance waiting for the talented Zoe. The event host hits the stage and introduces Zoe Rose Gold, and this dark Brooklyn night club illuminates when she hits the stage. Zoe's physical stature is mesmerizing at first glance with her lean golden complexion, dark organic hair, and stage swag setting the crowd on FIYA. The background music to her internet buzzworthy track "YoYo" blares through the surround sound speakers and the audience begins to recite every single bar to the melodic track. The karaoke-style chorus flow makes it an instant crowd favorite with everybody rocking from side to side saying, "Do you love me, do you love me not." The epic tropical wave beat production created a Caribbean/Haitian Block party. Zoe Rose Gold's live performance personifies her passion for music and mass appeal.
The hip hop community and the entertainment world as a whole can only expect greatness from this amazing blend of beauty, brains, talent, and perseverance.
Zoe RoseGold is available across several digital platforms, including Instagram, Spotify, and Radio Pushers.
About The RNH MAG
The RNH MAG is a representation of the new age rebel millennials in the world of music, art, film, photography, sports, and creative design. Using a journalistic approach, the platform enables readers to see a panoramic view of the message, offering provocative, sexy, outside-of-the-box, and visionary content.
The RNH MAG's chief focus is to highlight the entrepreneurs and innovative thinkers of this generation who are creating a better tomorrow.
Media Contact
Company Name: Radiopushers
Contact Person: Patience Jay
Email: Send Email
Phone: 310-971-9656
Country: United States
Website: www.radiopushers.tv